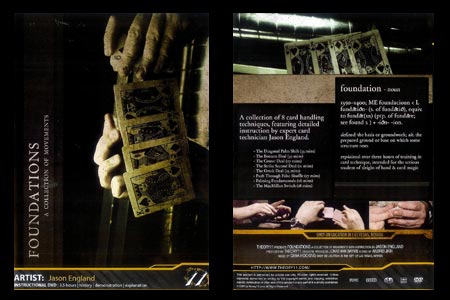 Description
Le DVD Foundation de Jason England et Theory11 regroupe plus de 20 ans d'expérience et vous enseignera à travers un programme de 3h30, huit mouvements extrêmement détaillés.
Ces techniques cartomagiques sont enseignées par un maître de la manipulation des cartes qui a développé et perfectionné son travail avec des légendes de la magie tels que Steve Forte, Richard Turner, Martin Nash, Darwin Ortiz, et Chris Kenner.
Jason a souhaité vous amener encore plus loin dans la magie des cartes et vous enseignera des manipulations de cartes qui vous permettront de présenter les tours les plus évolués, voici les techniques que vous apprendrez en détail avec Foundation v.1 :
- The Bottom Deal
- Strike Second Deal
- Center Deal
- Greek Deal
- Push Through False Shuffle
- Palming Fundamentals
- Diagonal Palm Shift
- The MacMillan Switch
Il s'agit là d'un excellent DVD d'apprentissage pour les cartomanes désireux de perfectionner leurs techniques de cartes et aller beaucoup plus loin dans ce milieu.
3H30 de cartomagie avancée
DVD explicatif en Anglais, facilement compréhensible avec les images
Une création signée Jason England et Theory11

Return to the catalogue
This item is no longer
sold on Magicaplanet