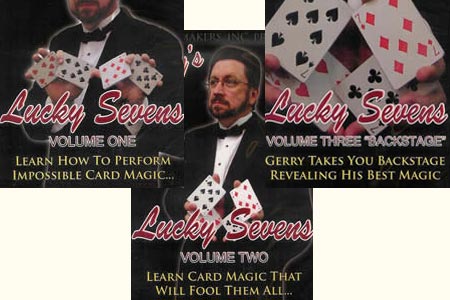 Description
Découvrez dans ces trois volumes 7 routines par DVD de cartomagie adaptées à la triche et mises au point par Gerry Lucky, l'expert en tricherie !
AU SOMMAIRE :

VOLUME 1 :
Gerry's Red Hot Sevens - One at a time, the Four Lucky Sevens are shown to have blue backs, but in the end, they are all RED HOT!
Technicolor Sevens - The Lucky Sevens are popped out of the deck and placed into the middle only to magically appear on the top with a change in appearance.
Shaken, but not Stirred - A new deck is shuffled and the aces are cut to the top only to be taken over by Sevens as the shuffled deck hasn't been stirred.
Swivel Spin Pop Shot - A flashy cutting of the Lucky Seven, using four eye-popping moves including Gerry's own Blind Swivel Cut.
SEVENS: With A Twist - Four Aces are placed on the top of the deck, one by one they twist into the Lucky Sevens.
Ribbon Change - Blue back Sevens are placed within a blue deck only to change their appearance before your very eyes.
A Lesson In Cheating - Gerry teaches how the Lucky Sevens can hide at the top and bottom of the deck as well as his own coat pockets.
VOLUME 2 :
Turn Over Pop : One at a time, the Four Lucky Sevens pop to life, before your very eyes.
Gerry's Lucky Sevens : Come and find out how the Sevens stand out in a crowd, that's why they are Gerry's Lucky Sevens.
Seven Seconds : Une routine simple que tout le monde peut apprendre en 7 secondes!
Gerry's Luck is Turned : Gerry shows us how his luck got turned during a poker game with the help of his Lucky Sevens.
FAN-Tastic Sevens : See how the Sevens pop from the deck, just to show how FAN-Tastic they are.
Gerry's Luckiest Seven : Gerry tells us which of the Sevens is his Luckiest even though they are all special in their own way.
SEVENS Undercover : Go on a Top Secret 'undercover' mission with the Seven's as they rise to the occasion. Unreal!
VOLUME 3 :
SEVENS Unshuffled : After the deck is well mixed Gerry cuts to the Sevens as the Sevens 'Unshuffle' the deck.
Surprise SEVENS : Gerry proves how Lucky the Sevens are as he lets a spectator randomly cut right to his Lucky Sevens.
Sevens Switched at Berth : Gerry shows a spectator how two cards can be switched right in her hands only to find out the Sevens do all the switching.
Big Deal : Watch as a spectator deals cards on to Gerry's Big Lucky Seven only to find out Sevens always unite no matter what their size.
Drunken Shuffle : The Lucky Sevens come to the rescue as Gerry's cards go thru a 'Drunken Shuffle.'
Ambush : Join Gerry as he sneaks up and tries to Ambush his Lucky Sevens.
DVDs en Anglais
3 volumes

Return to the catalogue
This item is no longer
sold on Magicaplanet