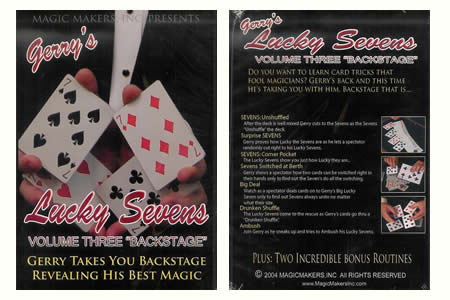 Description
Do you want to learn card tricks that fool magicians ? Gerry Griffin is back and this time, he is taking you with him.
SUMMARY :
SEVENS Unshuffled : After the deck is well mixed Gerry cuts to the Sevens as the Sevens 'Unshuffle' the deck.


Surprise SEVENS : Gerry proves how Lucky the Sevens are as he lets a spectator randomly cut right to his Lucky Sevens.


Sevens Switched at Berth : Gerry shows a spectator how two cards can be switched right in her hands only to find out the Sevens do all the switching.


Big Deal : Watch as a spectator deals cards on to Gerry's Big Lucky Seven only to find out Sevens always unite no matter what their size.


Drunken Shuffle : The Lucky Sevens come to the rescue as Gerry's cards go thru a 'Drunken Shuffle.'


Ambush : Join Gerry as he sneaks up and tries to Ambush his Lucky Sevens.

English DVD.


Return to the catalogue
This item is no longer
sold on Magicaplanet