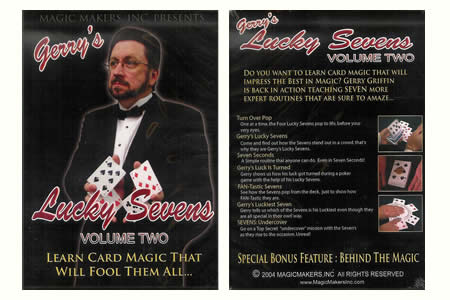 Description
Do you want to learn the card magic that will empress the best in magic ? Gerry Griffin is back in action teaching SEVEN more expert routines that are sure to amaze.!
SUMMARY :
Turn Over Pop : One at a time, the Four Lucky Sevens pop to life, before your very eyes.


Gerry's Lucky Sevens : Come and find out how the Sevens stand out in a crowd, that's why they are Gerry's Lucky Sevens.


Seven Seconds : Une routine simple que tout le monde peut apprendre en 7 secondes!


Gerry's Luck is Turned : Gerry shows us how his luck got turned during a poker game with the help of his Lucky Sevens.


FAN-Tastic Sevens : See how the Sevens pop from the deck, just to show how FAN-Tastic they are.


Gerry's Luckiest Seven : Gerry tells us which of the Sevens is his Luckiest even though they are all special in their own way.


SEVENS Undercover : Go on a Top Secret 'undercover' mission with the Seven's as they rise to the occasion. Unreal!


English DVD.


Return to the catalogue
This item is no longer
sold on Magicaplanet