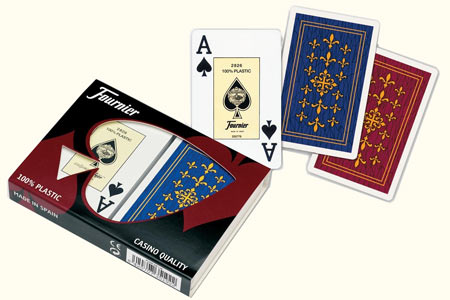 Description
Since 1868 Fournier have been making the worlds best playing cards from their factory in Vitoria, Spain. Fournier choose a unique selection of raw materials that result in a playing card that offers maximum strength and durability. Their cards garuantee the optimum amount of slip using a varnish which has been a family secret for over a century!
Each card is cut individually and then passes through a 12 stage Quality Control process ensuring every deck reaches you in perfect condition.
Guaranteed quality. All you need to do is choose your favourite design! The Flor De Lis has an almost regal presense and the red and blue colours strike a brilliant contrast.
These are a narrow card as popular in Europe and feature two Jumbo pips making them perfect for poker.

Return to the catalogue