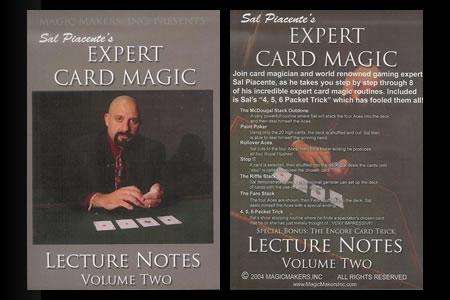 Description
Join card magician and world renommed gaming expert Sal Paciente, as he takes you step by step through 8 of his incredible expert card magic routines. Included is Sal's "4, 5, 6 Packet Trick" which has fooled them all.
SUMMARY :
The McDougal Stack Outgone :
A very powerful routine where Sal will stack the four aces into the deck and then deal himself the aces.


Paint Poker :
Using only the 20 high cards, the deck is shuffled and cut. Sal is then able to deal himself the winning hand.


Rollover Aces :
Sal cuts to the four aces, then for a kicker ending he produces all four Royal Flushes !


Stop !! :
A card is selected, then shuffled into the deck. Sal deals the card until 'STOP' is called to review the chosen card.


The Riffle Stack :
Sal demonstrates how a professional gambler can set up the deck of cards with the use of a riffle shuffle.


The Faro Stack :
The four aces are shown, than Faor shuffled into the deck. Sal deals himself the aces with a special ending !


4, 5, 6 Packet Trick :
Sal's show stopping routine where he finds a spectator chosen card that he or she has just merely thought of...VERY IMPRESSIVE !

BONUS :


The encore card trick.

English DVD.

Return to the catalogue
This item is no longer
sold on Magicaplanet