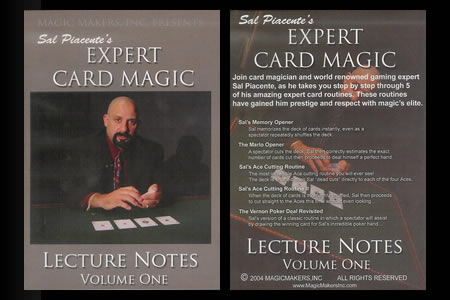 Description
Join card magician and world renommed gaming expert Sal Paciente, as he takes you step by step through 5 of his amazing expert card routines. These routines have gained him prestige and respect with magic's elite.
SUMMARY :
Sal's Memory Opener :
Sal memorizes the deck of cards instantly, even as a spectator repeatedly shuffles the deck !


The Marlo Opener :
A spectator cuts the deck. Sal then corrctly estimates the exact number of cards cut then proceeds to deal himself a perfect hand.


Sal's Ace Cutting Routine :
The most incredible Ace cutting routine you will ever see ! The deck is shuffled then Sal "dead cuts" directly to each of the four aces.


Sal's Ace Cutting Routine II
When the deck of cards is thoroughly shuffled, Sal then proceeds to cut straight to the aces this time without even looking...


The Vernon Poker Deal Revisited
Sal's version of a classic routine in which a spectator will assist by drawing the winning card for Sal's incredible poker hand...


English DVD.


Return to the catalogue
This item is no longer
sold on Magicaplanet