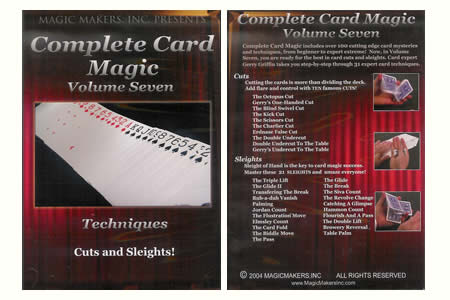 Description
This DVD is the fourth of the collection
Complete Card Magic
.
Complete Card Magic includes over 100 cutting edge card mysteries and techniques, from beginner to expert extreme !
Now, in Volume Seven, you are ready for the best in card cuts and sleights. Card expert
Gerry Griffin
takes you step-by-step through 31 expert card techniques.
Dvd Complete Card Magic Vol 7 :
Cuts : Cutting the cards is more than dividing the deck. Ad flare and control with TEN famous CUTS !

- The Octopus Cut
- Gerry's One-Handed Cut
- The Blind Swivel Cut
- The Kick Cut
- The Scissors Cut
- The Charlier Cut
- Erdnase False Cut
- The Double Undercut
- Double Undercut to the Table
- Gerry's Undercut to the Table.


Sleights : Sleight of hand is the key to card magic success. Master these 21 SLEIGHTS and amaze everyone !

- The Triple Lift
- The Glide II
- Transferring the Break
- Rub-a-dub Vanish
- Palming
- Jordan Count
- The Flustration Move
- Elmsley Count
- The Card Fold
- The Biddle Move
- The Pass
- The Glide
- The Break
- The Siva Count
- The Revolve Change
- Catching a Glimpse
- Hammon Count
- Flourish and a Pass
- The Double Lift
- Braue Reverse
- Table Palm

English DVD.

Return to the catalogue
This item is no longer
sold on Magicaplanet