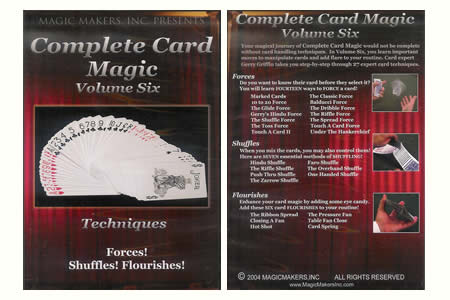 Description
This DVD is the fourth of the collection
Complete Card Magic
.
Your magical journey into Complete Card Magic will not be complete without card handling techniques.
In Volume Six, you learn important moves to manipulatecards and add flare to your routine. Card expert
Gerry Griffin
takes you step-by-step through 27 expert card technique.
Dvd Complete Card Magic Vol 6 :
Forces : Do you want to know their card before they select it ? You will learn FOURTEEN ways to FORCE a card !
- Marked Cards
-10 to 20 Force
- The Glide Force
- Gerry's Hindu Force
- The Shuffle Force
- The Toss Force
- Touch a Card II
- The Classic Force
- Balducci Force
- The Dribble Force
- The Spread Force
- Touch a Card Force
- Under the Handkerchief...


Shuffles : When you mix the cards, you may also control them ! Here are SEVEN essential method of SHUFFLING !
- Hindu Shuffle
- The Riffle Shuffle
- Push Thru Shuffle
- The Zarrow Shuffle
- Faro Shuffle
- The Overhand Shuffle
- One Handed Shuffle


Flourishes : Enhance your card magic by adding some eye candy. Add SIX card flourishes to your routine !
- The Ribbon Spread
- Closing a Fan
- Hot Shot
- The Pressure Fan
- Table Fan Close
- Card Spring

English DVD.

Return to the catalogue
This item is no longer
sold on Magicaplanet