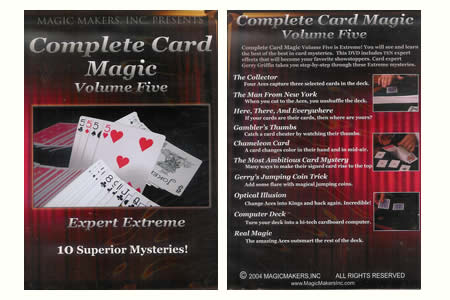 Description
This DVD is the third of the collection
Complete Card Magic
.
Complete Card Magic Volume Five is extreme ! You will see and learn the best of the best in card mysteries.
This DVD includes 10 expert effects that will become your favorite showstoppers. Card expert
Gerry Griffin
takes you step-by-step through these extreme mysteries.
Dvd Complete Card Magic Vol 5 :
The Collector :
Four Aces capture three selected cards in the deck.


The Man from New York : When you cut to the Aces, you unshuffle the deck.


Here, There, and Everywhere : If your cards are their cards, then where are yours


Gambler's Thumbs : Catch a card cheater by watching their thumbs.


Chameleon Card : A card changes color in their hand and in mid-air.


The Most Ambitious Card Mystery : Many ways to make their signed card rise to the top.


Gerry's Jumping Coin Trick : Add some flare with magical jumping coins.


Optical Illusion : Change Aces into Kings and back again. Incredible!


Computer Deck : Turn your deck into a hi-tech cardboard computer.


Real Magic : The amazing Aces outsmart the rest of the deck.
English DVD.

Return to the catalogue
This item is no longer
sold on Magicaplanet