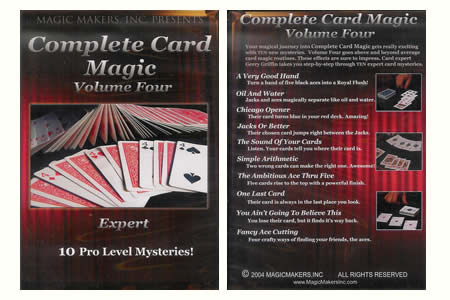 Description
This DVD is the fourth of the collection
Complete Card Magic
.
Your magical journey into Complete Card Magic gets really exciting with these ten new mysteries.
Volume four goes above and beyond average card magic routines. These effects are sure to impress. Card expert
Gerry Griffin
takes you step-by-step through the next level of mystery.
Dvd Complete Card Magic Vol 4 :
A Very Good Hand : Turn a hand of five blank aces into a Royal Flush!


Oil and Water : Jacks and aces magically separate like oil and water.


Chicago Opener : Their card turns blue in your red deck. Amazing!


Jacks or Better : Their chosen card jumps right between the Jacks.


The Sound of your Cards : Listen. Your cards tell you where their card is.


Simple Arithmetic : Two wrong cards can make the right one. Awesome!


The Ambitious Ace Thru Five : Five cards rise to the top with a powerful finish.


One Last Card : Their card is always in the last place you look.


You Ain't Going to Believe This : You lose their card, but it finds its way back.


Fancy Ace Cutting : Four crafty ways of finding your friends, the aces.
English DVD.

Return to the catalogue
This item is no longer
sold on Magicaplanet