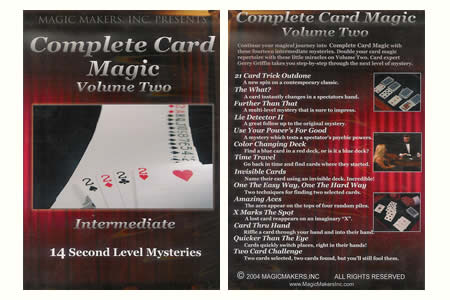 Description
This DVD is the second of the collection
Complete Card Magic
.
Continue your magical journey into Complete Card Magic with these fourteen intermediates mysteries.
Double your card magic repertoire with this little miracles in volume two. Card expert
Gerry Griffin
takes you step-by-step through the next level of mystery.
English DVD.!
Dvd Complete Card Magic Vol 2 :
21 Card Trick Outdone : A new spin on a contemporary classic.


The What? : A card instantly changes in a spectator's hand.


Further Than That : A multi-level mystery that is sure to impress.


Lie Detector II : A great follow-up to the original mystery.


Use Your Powers For Good : A mystery that tests a spectator's psychic powers.


Color Changing Deck : Find a blue card in a red deck, or is it a blue deck?


Time Travel : Go back in time and find cards where they started.


Invisible Cards : Name their card using an invisible deck. Incredible!


One the Easy Way, One the Hard Way : Two techniques for finding two selected cards.


Amazing Aces : The aces appear on the tops of four random piles.


X Marks the Spot : A lost card reappears on an imaginary 'X'.


Card Thru Hand : Riffle a card through your hand and into their hand.


Quicker than the Eye : Cards quickly switch places, right in their hands!


Two Card Challenge : Two cards selected, two cards found, but you'll still fool them.
English DVD.

Return to the catalogue
This item is no longer
sold on Magicaplanet