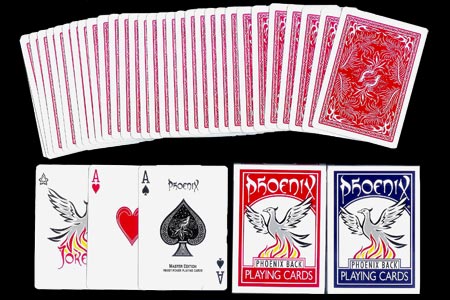 Description
Printed at US Playing Cards on Bicycle cardstock, punched face up for easy shuffles, faros, better handling.
The Phoenix Deck uses the standard faces of Bicycle playing cards but takes them a step further for professional magicians. With large format aces a better visibility is guaranteed even on greater distances, but for all who want to stay with the "old style" aces... they are also included.
This deck is intended to be the pro magician's working horse for a very reasonable price.
Key features of the Master Edition of the Phoenix Decks:
- Printed at US Playing card company on Bicycle cardstock, with air-cushion finish, so the cards have the well-known Bicycle quality
- The decks are punched faceup to allow perfect Faros and Riffle Shuffles right from the start, professional magicians know the difference
- The new deck order is optimized for the Tamariz Stack, you can immediately start the necessary faros to get into the stack
- Phoenix faces and Bicycle faces are identical with a few exceptions
- The Ace of Spades is pretty close to the Bicycle Ace of Spades
- All other Aces are specially designed for better visibility. Fine details make them beautiful for close-up performances also, these fine details blur out on distance and will get invisible on stage.
- The common used (old) Aces are also included in the deck so if you cannot get warm with the new idea of large aces, use the old ones!
- The back design is modern and classy, not too fancy to draw suspicion
- The back design has a very visible but pretty well hidden oneway marking
- The backs where especially designed to hide additional information in the gaffed cards
- The Phoenix card case uses the traditional layout of the Bicycle card case, also there are NO tricks or information on the card case that the cards are optimized for magicians. So you are able to leave the cards on the table after your performance as a souvenir for your audience.
- If you cannot find your well-loved gaff card in our portfolio, we can easily custom print them for you.
- For professional magicians: We offer special deals for print your business card on the blank faces of the Phoenix Deck, just contact us for more details
- The faces also have a well hidden, but very visible oneway marking, a unique feature of all Phoenix Decks.
- A lot of trick cards are already available like blank cards and double backers, marked decks and trick sets, more will come soon.
- Also the most common trick decks are available like Brainwave Deck, Invisible Deck, Stripper and Svengali Deck

Return to the catalogue