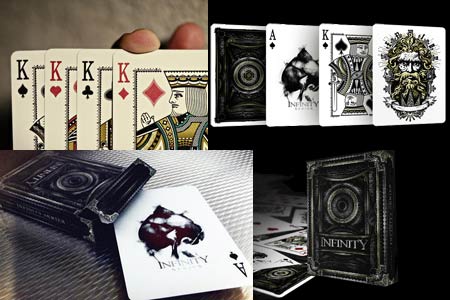 Description
One of the most ambitious decks of cards in Ellusionist history, we set out to create the most unique deck of playing cards ever created.
The tuck box of the Infinity deck overflows with a richness of design that US Playing card originally said, "Cannot be accomplished." So, we went to work directly with their pressmen, their special effects experts, research & development departments, working in unison to finally land upon a creation that is worth of notoriety in the world of playing cards.
The card case box has multi level embossing AND debossing to strategically create depressions in the face so your fingers can graze over depressions falling into infinity.
• Designed by Lee McKenzie and Jason Brumbalow.
• Aesthetically Crafted Borders, for ease of use in performance.
• Performance Coating Finish - engineered by Ellusionist & USPCC.
• Gold & Silver Foil Stamped card box. Metallic Silver and Gold Inks used throughout the deck.
• Full custom court cards, Ace, Pips and face cards. A newly-designed joker equipped with a blatant yet invisible reveal.

Return to the catalogue
This item is no longer
sold on Magicaplanet