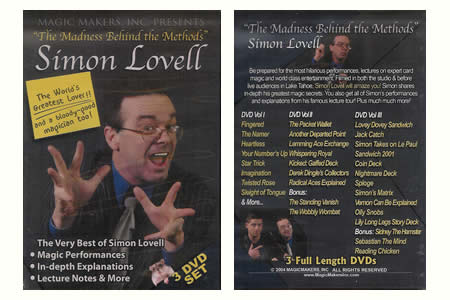 Description
3 Simon Lovel's DVD
set.
Be prepared for the most hilarious performances, lectures on expert card magic and world class entertainment. Filmed in both studio & before live audiences in Lake Tahoe,
Simon Lovel will amaze you !
Simon shares in-depht his greatest magic secrets. You also get all of Simon's performances and explanations from his famous lecture tour ! Plus much much more !
Volume 1 :
Fingered , The Namer, Heartless, Your Number's Up, Star Trick , Imagination, Twisted Rose, Sleight of Tongue & More...
Volume 2 :
The Packet Wallet, Another Departed Point, Lemming Ace Exchange, Whispering Royal, Kicked: Gaffed Deck Derek Dingle's Collectors, Radical Aces Explained, & Bonus: The Standing Vanish & The Wobbly Wombat
Volume 3 :
Lovey Dovey Sandwich , Jack Catch , Simon Takes on Le Paul , Sandwich 2001, Coin Deck , Nightmare Deck, Sploge, Simon's Matrix, Vernon Can Be Explained, Oily Snobs, Lily Long Legs Story Deck, Bonus: Sidney The Hamster & Sebastian The Mind Reading Chicken .
3full length DVDs.
English DVDs.

Return to the catalogue
This item is no longer
sold on Magicaplanet