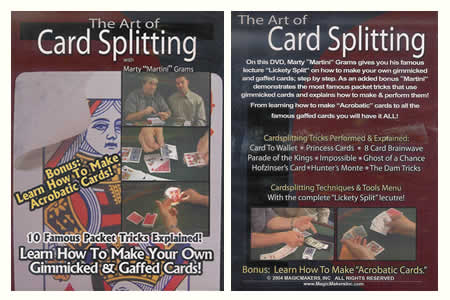 Description
On this DVD,
Marty "Martini" Grams
gives you his famous lecture "Lickety Split" on how to make your own gimmicked and gaffed cards; step by step.
As an added bonus "Martini" demonstrates the most famous packet tricks that use gimmicked card and explains how to make and perform them !
From learning how to make "acrobatic" cards to all the famous gaffed cards you will have it ALL !!!!
AU SUMMARY :Cardsplitting Tricks Performed & Explained :
Card To Wallet

Princess Cards

8 Card Brainwave

Parade of the Kings

Impossible Ghost of a Chance

Hofzinser's Card

Hunter's Monte

The Dam Tricks.


Cardsplitting Techniques & Tools Menu
With the complete "lickety Split" lecture !
Bonus : Learn How To Make "Acrobatic Cards".

English DVD.

Return to the catalogue
This item is no longer
sold on Magicaplanet