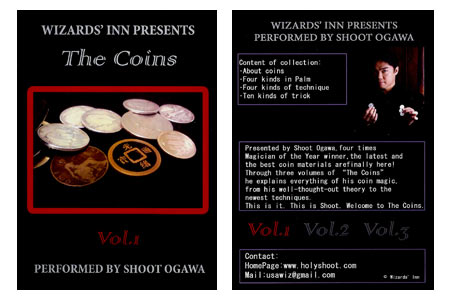 Description
There are three dvds in the series; vol. 1 is titled "Special Card Magic DVD"; vol. 2 is "Special Coin Magic DVD", and vol. 3 is titled "Technique of Magic DVD".
Both vol.1 and vol.2 have five effects each. They are classic Shoot material; very knuckle-busting sleights with simple plots and highly visual magic. (Knuckle-busting, hence the name Busters).
Let me run through the effects:
Vol.1 Card Magic - Effects


Count One
- Three separate spectator selections are found quicker than you can count "one".
Be Visitor
- Very, very similar to Larry Jenning's Visitor, but with an ultra-smooth Shoot Ogawa handling and a unique application of the Billis switch.
Repeat
- think "reset" on steriods, and it's super clean, with no extras / gimmicks / gaffs / preparation.
Speed
- the identity of a spectator's selection is determined by first locating four face cards in a startling magical fashion, and then using these four face cards to find the selected card's brethren.
Musashi
- a lengthy card routine, combining much of the previous routines, with a dramatic climax at the end (that kinda reminds me of a Lennart Green effect!)
These DVDs are amazing; every one of these routines is commercial and ungimmicked. If you have a deck of cards and four coins, the magic you can do with the knowledge contained in these DVDs is mind-blowing.

Return to the catalogue
This item is no longer
sold on Magicaplanet