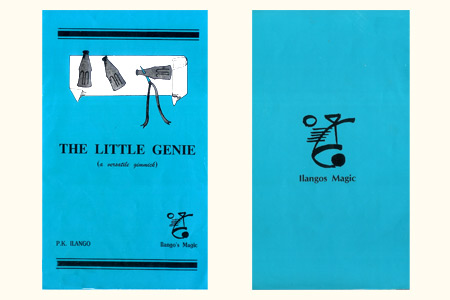 Description
Voici un
gimmick formidable
qui vous permettra de
réaliser des miracles avec une bouteille en verre de Coca-cola transparente
.
La plupart des effets sont
totalement impromptus
et peuvent se faire en plein bar avec une bouteille que l'on vient de consommer.
Produisez par exemple des foulards de la bouteille que vous venez de consommer, transpercez-la avec la planche d'une table, devisez le goulot de la bouteille devant tout le monde, faites léviter la bouteille puis faites-la disparaître !
7 routines fabuleuses
dans un booklet en anglais.
Au Sommaire :

Topsy - Turvy Bottle
: On enroule une bouteille de Coca-cola avec du papier pour former un tube. Sans retourner le rouleau, la goulot de la bouteille va se retrouver alternativement en haut, puis en bas. La bouteille se retourne toute seule ! Un classique, mais en version impromptue grâce à ce fabuleux gimmick.
Little génie's silk cola
: Une belle version du foulard à la bouteille. Vous présentez une bouteille qui contient un foulard à l'intérieur. Vous enroulez celle-ci dans du papier journal afin de la cacher. Vous attrapez le foulard et le sortez de la bouteille. On peut tout à fait voir que le goulot est bel et bien vide. Vous faites ensuite disparaître le foulard dans vos mains, et celui-ci réapparaît à l'intérieur de la bouteille alors que vous ne l'avez pas touché.
Follow up to the Coin in bottle
: Une routine pour faire après une pièce à la bouteille. Le magicien fait semblant de dévisser le goulot de la bouteille et l'arrache. Il se retrouve avec le goulot d'une main et le reste de la bouteille de l'autre. Ensuite il la revisse et donne le tout à un spectateur qui n'arrivera à rien dévisser.
Needle Trhrough the bottle
: Routine très visuelle où l'on transperce le goulot d'une bouteille de Coca-cola avec une aiguille.
Bottle through the table
: La bouteille de coke transperce la table d'une façon hallucinante.
Bottle levitation and vanish
: Une bouteille entourée d'une feuille de papier journal va se mettre à léviter dans les airs, puis va disparaître.
Silk Streamer Production
: Une production de foulards ou streamers à la bouteille, montrée préalablement vide, magnifique.
Gimmick astucieux
Booklet en anglais de 13 pages
7 routines intéressantes

Return to the catalogue
This item is no longer
sold on Magicaplanet