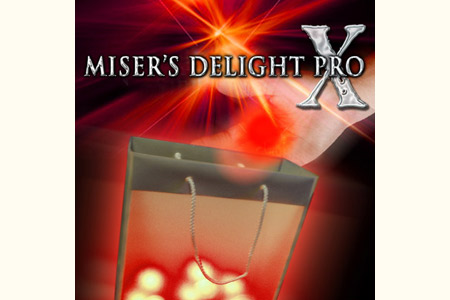 Description
Several brand new features have been added to the Misers Delight bag. Along with all the usual features, you can now make the lights cascade in and out of the bag. Plus the new incredible electronics will allow you to remove all 14 lights one light at a time. This looks FANTASTIC !
You have to see these bags to believe both the effect and quality of them. Every bag is individually made by an electronics expert.
The bags have 3 different settings, manual, variable timer and infrared. Each setting will allow 14 lights to appear or vanish one at a time inside the bag.
Manual
: allows the lights to appear while you are holding the bag.
Infrared
: everytime you wave your hand near the bag a light appears.
Variable Timer
: lights appear every few seconds in the bag while you are nowhere near the bag.
Perfect for stand up, children's shows or cabaret. Using a red d'lite you pluck a bright red lite from thin air. The light appears and vanishes at will. Finally toss the light into the bag. The light shows through the semi transparent frosted bag, then visually drops down inside the bag (this looks amazing). When the bag is full any time you wish you blow in the bag and all the lights instantly vanish.
Top quality bag and craftmanship. We will have these in limited numbers so do not miss out. Highest recommendation, High-tech magic

Return to the catalogue