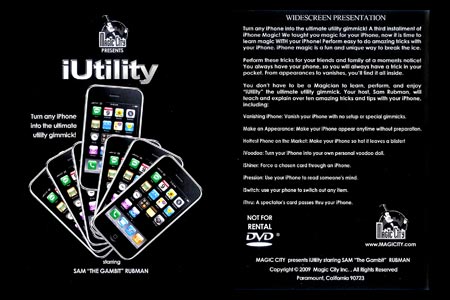 Description
Turn any iPhone into the ultimate utility gimmick! A third installment of iPhone Magic! We taught you magic for your iPhone, now it is time to learn magic WITH your iPhone! Perform easy to do amazing tricks with your iPhone. iPhone magic is a fun and unique way to break the ice.
Perform these tricks for your friends and family at a moments notice! You always have your phone, so you will always have a trick in your pocket. From appearances to vanishes, you'll find it all inside.
You don't have to be a Magician to learn, perform, and enjoy the "iUtility" the ultimate utility gimmick. Your host, Sam Rubman, will teach and explain over ten amazing tricks and tips with your iPhone, including:
Vanishing iPhone
: Vanish your iPhone with no setup or special gimmicks.
Make an Appearance
: Make your iPhone appear anytime without preparation.
Hottest Phone on the Market
: Make your iPhone so hot it leaves a blister!
iVoodoo
: Turn your iPhone into your own personal voodoo doll.
iShiner
: Force a chosen card through an iPhone.
iPression
: Use your iPhone to read someone's mind.
iSwitch
: Use your phone to switch out any item.
iThru
: A spectator's card passes thru your iPhone.
Running Time Approximately: 43mins

Return to the catalogue
This item is no longer
sold on Magicaplanet