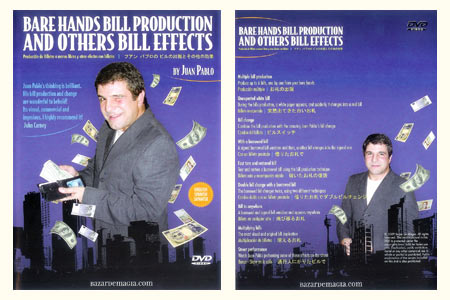 Description
Vous allez apprendre grâce à ce DVD original et aux gimmick inclus, à produire de façon flash, c'est à dire extrêmement rapide, un grand nombre de billets à partir de vos mains montrées vides. Vous pourrez également les transformer à vue, les multiplier, les faire disparaître….
Vous allez faire rêver vos spectateurs ?
Au Sommaire :
Multiple Bill production
Produisez jusqu'à 6 billets, un à un, de vos mains vides !


Unexpected white bills
Un morceau de papier blanc fait son apparition pendant votre production, que vous transformez en un instant en un vrai billet de banque !


Bill Change
Combinez la production de billets avec le très efficace change de billet de Juan Pablo.


With a Borrowed Bill
Un billet emprunté et signé disparaît. Saisissez alors un second billet transformez le en billet signé !


Fast Torn and Restored Bill
Déchirez et restaurez un billet signé en utilisant la méthode de production de billet !


Double Bill Change with a Borrowed Bill
Le billet emprunté se transforme à deux reprises, à l'aide de deux techniques différentes


Bill to Anywhere
Un billet emprunté et signé disparaît pour réapparaître à un autre endroit impossible !


Multiplying Bill
La plus visuelle et originale des multiplications de billets


Street Performance
Observez Juan Pablo présenter quelques un de ses effets en pleine rue.
Productions très efficaces
8 routines excellentes
Fonctionne avec tous types de billets
Gimmicks inclus : 2 FP Vernet (dont un king size)
Durée du DVD : 1hr 14min
DVD en Anglais et Espagnol

Return to the catalogue
This item is no longer
sold on Magicaplanet