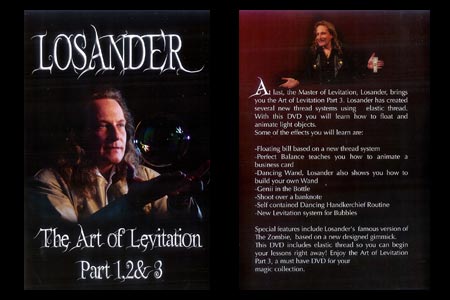 Description
Spécialiste dans l'art de la lévitation et des effets d'animation,
Losander
est l'inventeur de la fameuse "Floating Table" qui a été un grand succès aux Etats-Unis, et incontestablement l'effet le plus époustouflant du marché !
Dans ce coffret de deux DVDs, Losander vous apprend à
donner vie à des objets quelconques
: des effets intéressants et de nouvelles idées sur la façon de travailler avec un fil.
Il va partager avec vous quelques idées et
révélations sur l'art de la lévitation sur scène ou en close-up.
Voici certains des effets inclus dans le premier DVD :
- Floating's Bill
- Floating Paperball
- Dancing Cane
- Bubble Zombie
- Bubble Magic
- The Floating Feather
- The Jumping Card
- Mystical Fork
- Dancing Hanky
Aussi, dans le volume 3 (Deuxième DVD), Losander vous explique les secrets de ses nouveaux systèmes de fil utilisant
du fil élastique.
Grâce à ce DVD vous apprendrez comment animer et faire léviter des objets légers.
AU SOMMAIRE :
- Floating Bill :
le billet en lévitation grâce à un nouveau système de fil.
- Perfect Balance :
vous apprend comment animer une carte de visite.
- Dancing Wand :
Losander vous apprend a créer votre propre baguette magique.
- Genii in the Bottle.
Shoot over a banknote.
- Self contained Dancing Handkerchief Routine.
- New Levitation system of Bubbles.

- En bonus:
Ce DVD contient une nouvelle version du célèbre tour The Zombie, à réaliser à l'aide d'un nouveau gimmick.
Vendu sans gimmicks
Langue : Anglais

Return to the catalogue
This item is no longer
sold on Magicaplanet