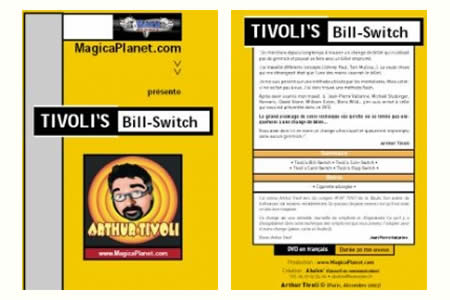 Description
The most beautiful bill change that exists nowadays! Discover all the applications of this magnificent technique created by Arthur Tivoli!!! Dvd and Booklet in French.
I met Arthur Tivoli during the AFAP convention in 1997 in la Baule. His talent in balloon manipulation is known all over the world. But what people unknow is that he is also a very good magician.

This change is really wonderful, simple and ingenious. The particularity of this very simple technique is that you can adapt it to other changes (with coin, card or silk).

Congratulations Arthur Tivoli!
Jean Pierre Vallarino
" From a long time I was wondering how to find a bill change without gimmick and executable with a borrowed bill.
I've studied different concepts (from Johnny Paul, Tom Mullica...).
The only thing that was disturbing me was the fact that one of the hand were covering the bill.
So I studied the method used by mentalists. But this method is not visual. So I find a flash method.
After showing my work to Jean-Pierre Vallarino, Michaël Stutzinger, Romaric, David Stone, William Eston, Boris Wild... I published the method presented in this DVD and booklet.
The positive point of this technique is its vast field of utilisation (not only bill change)!
So this change is very visual and almost impromptu, without using a gimmick!
Arthur Tivoli
CONTENTS:
Tivoli's Bill-Switch.

Tivoli's Coin-Switch.

Tivoli's Card-Switch.

Tivoli's Flag-Switch.

BONUS: The stretched out cigarette.

DVD (time: 20 minutes) and Booklet (8 pages and 12 photos) in French.

A production MagicaPlanet.

Return to the catalogue
This item is no longer
sold on Magicaplanet