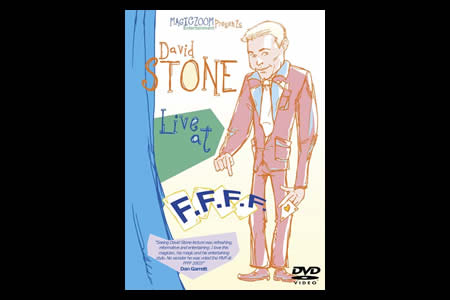 Description
Sneak into one of the world's most exclusive close-up conventions, Fetcher's Finger Flicking Frolic, and watch
David Stone
presents the lecture that won him the
Most Valuable Person award
in 2003 !
Learn all the sleights, subtleties and finesses that have made each one of these routines a mainstay in David's close-up act !
Over 80 minutes of magic, without cuts, as if you were there, plus an incredible Bonus Section featuring 3 more tricks and some surprises !
SUMMARY :
Splash Bottle :
A flash appearance of a bottle, for close-up or stage !
The Mulberry Production :
A startling, no-gimmick production of four coins !
Double flip :
An original double-lift flourish for the card fanatics !
Stone change :
One card, held at the fingertips, visibly changes into another ! This is David's striking approack to Ed Marlo Snap Change.
Cocoon :
The magician puts a coin on the table, picks it up again to play with it, then returns it to the table, whereupon the spectator see that there are now actually four coins on the table ! A powerful lesson in misdirection.
Flash card :
A selected card flies out from the center of the deck during a reiffle shuffle.
The Opening trick theory :
David shres his discoveries based on years of works at some of the most prestigious restaurants on the
Cote d'Azur
. This is entertaining, funny, an extremely valuable advice !
Self worked :
Despite the fact that the magician does not appear to handle the deck in any way, a thought-of card vanishes ! This is absolutely diabolical !
Bonus :
3 more tricks and some surprises !
Running time :
About 80 minutes.
Languages :
English/French.

Return to the catalogue