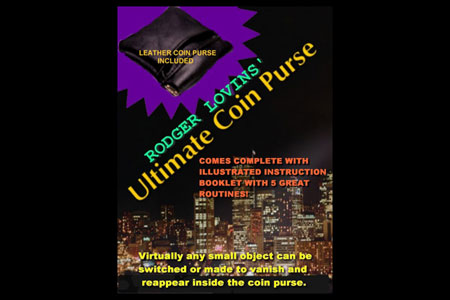 Description
Vous allez adorer ce porte
monnaie spécial
qui pourtant a l'air tout à fait banal, mais qui vous permettra de
réaliser de véritables miracles !!!
En effet, l'Ultimate coin purse est un porte monnaie subtilement truqué, livré avec deux muscades, dont une est aimantée, et une notice qui vous explique
5 routines
très originales pensées par
Rodger Lovins
. Vous pourrez par la suite intégrer ce gimmick à vos propres routines.
Les routines expliquées sont les suivantes :
-
Chop Purse :
Un voyage de balles d'un porte monnaie à la main du magicien et de la main au porte monnaie de nouveau. Très beau, très propre.
-
100$ Quarter Challenge :
Un pari avec le spectateur sur un jeu de pièces où le magicien gagnera toujours. Un pari de bar excellent !
-
Unbolted nut :
Une vis est vissée dans un écrou très fort par un spectateur, le magicien place cet objet solidaire dans le porte monnaie, secoue rapidement et sort les deux pièces désolidarisées. Effet incroyablement troublant !
-
Scotch and can of soda :
Voyage de demi-dollar et de Penny Anglais du dessous d'une cannette au porte monnaie. Forte participation du spectateur, tour interactif !
-
Halves or quarters :
Un échange très visuel de 5 pièces à la fois. Très bluffant !
Porte monnaie + 2 muscades rouges dont une aimantée (Ø 2 cm)
5 routines originales expliquées
Notice en Anglais et en Français

Return to the catalogue