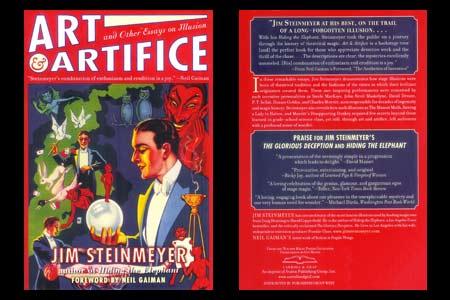 Description
Jim Steinmeyer, un des plus célèbres créateurs de grandes illusions
qui sont utilisées par de nombreux magiciens allant de Doug Henning à David Copperfield, et également auteur de beaux ouvrages tels que « Hiding the Elephant » et « The glorious Deception »,
a sorti son nouveau recueil sur histoire et l'évolution de la magie et l'illusionnisme appelé « Art et artifice »
.
Ce bel ouvrage vous plonge dans les coulisses de la scène illusionniste,
vous y découvrirez tous les secrets des plus grands magiciens, l'évolution des découvertes en magie, ainsi que les contextes historiques dans lesquelles les tours ont été créés
par différents magiciens comme Steele Mackaye, John Nevil Maskelyne, David Devant, P.T. Selbit, Horace Goldin et Charles Morrit.
Au Sommaire
:
1. Art & Artifice
2. The Moth in the Spotlight
3. Above and beneath the saw
4. Mr. Morritt's Donkey (In theory)
5. Mr. Morritt's Donkey (In practice)
Langue
: Anglais –
192 pages illustrées

Return to the catalogue
This item is no longer
sold on Magicaplanet