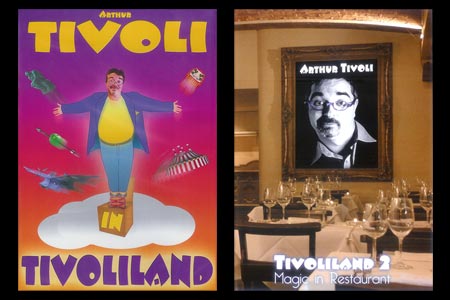 Description
TIVOLILAND VOLUME 1 :
Voici le nouveau DVD d'
Arthur Tivoli
intitulé « Tivoliland », qui vous présente avec humour et poésie plusieurs effets de close –up, salon, mais aussi de scène.
Car si
A.Tivoli
est connu pour la sculpture de ballon, il est aussi un magicien expérimenté. Et en voici une preuve indiscutable.
AU SOMMAIRE:
Coco Chanel : La touche personnelle et l'histoire d'Arthur Tivoli font du tour classique du « fil coupé et raccommodé » une véritable œuvre. Il peut se faire entouré, à quelques centimètres des spectateurs


Three-fly Youssoupof : Une routine, sans pièce truquée, s'appuie sur une histoire pour justifier chaque geste et mettre les effets en valeur et rendre cet exercice moins impersonnel donc plus efficace.


Mono-gobelet : une routine de gobelet qui s'adapte dans une poche (sans le déformer). Le coté japonais ajoute du mystère, de la poésie et de l'amusement à cet effet classique.


Josie la souris : Un ballon transformé en animal, prend vie et commence à léviter derrière un foulard. Un tour de magie très sympa pour enfants tenant dans une poche.


Rodin : Dans cet routine, Arthur Tivoli associe cartes, mentalisme, sculpture sur ballons et tout un tas d'éclat de rire.


Puzzle : Une carte signée déchirée et reconstituée très rapidement. La carte est dans le champ de vision des spectateurs du début à la fin.


Tivoli's Bill Switch : Sans doute un des changes de billets les plus visuels qui soit. Il permet de transformer à vue un billet en un autre billet, en pièce, en carte ou simplement de le faire disparaître.


Clément Ader : Une routine de papier à cigarette déchiré et reconstitué hallucinant. Les mains sont montrées constamment vides.


Guillaume Tell : Un billet signé disparaît pour réapparaître dans une pomme ! Et tout cela avec la participation du public. Et le billet reste propre !


Langue : Français, Anglais - Durée :1h 50mn – DVD Multizone.





TIVOLILAND VOLUME 2 :



Dans ce DVD, Arthur Tivoli va vous apprendre quelques routines à réaliser au restaurant.

A l'aide d'objets faciles à transporter, balles mousses, cartes, corde…vous passerez aisément de table en table pour le plus grand plaisir de tous !

AU SOMMAIRE :

Première Partie :
Sponge Ball Routine
Diamond
The Rising Card
The Bill in the Pen Cap

Deuxième Partie :
One Coin Routine
Ring and Rope Routine
Rope Routine
Sushi : The Stab Card without any Risk

Troisième Partie :
Broken Heart
Russia
Simplex Card to Box (with the friendly permission of Magic Dream)

Langue : anglais, français – Durée : 2h05.

Return to the catalogue
This item is no longer
sold on Magicaplanet