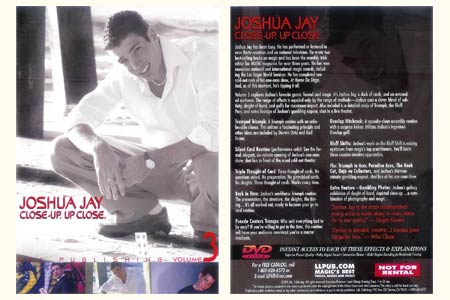 Description
Dans ce dernier volume de sa trilogie « Close up. Up close », Joshua Jay vous explique tous ses secrets : sa magie est interactive, surprenante, subtile, et très intelligente. Apprenez 10 routines impressionnantes.
Joshua Jay est un
jeune magicien talentueux
qui se produit dans différents pays et qui
possède déjà une grande expérience et un parcours formidable.
Il pratique sa magie régulièrement dans des émissions télévisées américaines et a déjà remporté un grand nombre de prix comme par exemple le « Las vegas world seminar ».


Apprenez ses tours, travaillez-les, et ajoutez-les à vos propres routines. Il explique tout un tas de techniques, subtilités et donne de nombreux conseils qui pourront vous servir toute votre vie…
10 routines expliquées en détail + bonus
DVD en anglais
Durée 1h53

Au Sommaire

Trumped Triumph:
A Triumph routine with an unbelievable climax. This utilizes a fascinating principle and other ideas are included by Darwin Ortiz and Karl Heinn.
Silent Card Routine (performance only):
See the formal, elegant, six-minute opening of Joshua's one-man show, shot live in front of the usual sold-out theater.
Triple Thought-of Card:
Three thought-of cards. No questions asked. No preparation. No gimmicked cards. No sleights. Three thought-of cards. Works every time.
Back in Time:
Joshua's workhorse Triumph routine. The presentation, the structure, the sleights, the timing…it's all worked out, ready to become your go-to card routine.
Pseudo Centers Transpo:
Who said everything had to be easy? If you're willing to put in the time, this routine will have your audience convinced you're a master mechanic.
Overlap Hitchcock:
A squeaky-clean assembly routine with a surprise kicker. Utilizes Joshua's ingenious Overlap gaff.
Bluff Shifts:
Joshua's work on the Bluff Shift is raising eyebrows from magic's top practitioners. You'll learn three counter-intuitive approaches.
Plus : Triumph in Aces, Paradise Aces, The Book Cut, Déjà vu Collectors, and Joshua's thirteen-minute gambling exposé, shot live at his one-man show. Extra Feature – Gambling Photos :
Joshua's gallery exhibition of sleight-of-hand, depicted close-up…a combination of photography and magic.

Return to the catalogue
This item is no longer
sold on Magicaplanet