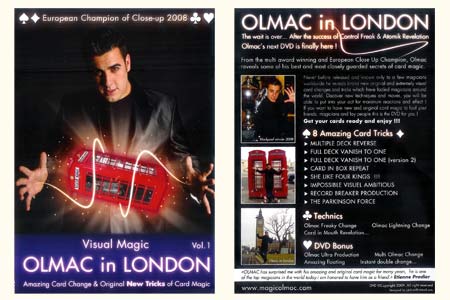 Description
Gagnant à plusieurs reprises du « European Close Up Champion », Olmac révèle certains de ces
meilleurs secrets de techniques de cartes
pourtant si bien gardés.
Pour la toute première fois,
Olmac
nous révèle des
tours originaux et extrêmement visuels
, changes, routines qui ont surpris les magiciens du monde entier.
Découvrez de nouvelles techniques et mouvements que vous pourrez réaliser pour vos routines et ainsi épater votre public !
Munissez-vous de ce DVD sans plus attendre si vous souhaitez surprendre vos amis, votre famille ou tout autre public en effectuant des tours de cartes vraiment originaux !
AU SOMMAIRE :
Multiple Deck Reverse
Full Deck Vanish to One
Full Deck Vanish to One (version 2)
Card in Box Repeat
She Like Four Kings !!!
Impossible Visual Ambitious
Record Breaker Production
The Parkinson Force
Techniques :
Olmac Freaky Change
Olmac Lightning Change
Card in Mouth Revelation
En Bonus :
Olmac Ultra Production
Amazing Floating
Multi Olmac Change
Instant Double Change
Langue :
anglais.

Return to the catalogue
This item is no longer
sold on Magicaplanet