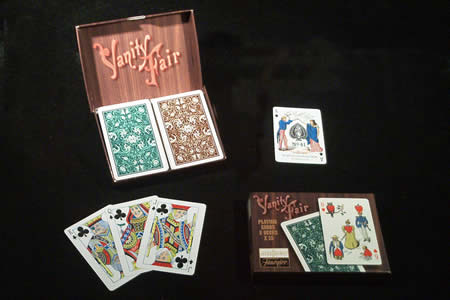 Description
L'habitude d'utiliser les symboles de couleur du jeu de cartes français pour l'intégration dans différentes zones d'une représentation en particulier, de la figure humaine en particulier, émane des gravures réalisées par l'anglais
Hogarth
, et tout spécialement de celle intitulée
"The Company of the Undertaken"
(1736).
Gravures qui ont inspiré, postérieurement, les grands caricaturistes. Dès le début du XIXe siècle, en Allemagne de même qu'en Angleterre, France et Pologne, etc., apparaissent les premiers exemples de cette mode, recueillie dans les annuaires et calendriers de l'époque. Et en Allemagne, à Tubinga, est publié l'annuaire de 1805, accompagné d'un jeu complet de Cartes de Transformation, réalisé par la
Comtesse Charlotte Von Jennison-Walworth
et édité par
J.G. Cotta
.
Aux Etats-Unis, les Américains commencent par réaliser des copies des jeux européens, mais plus tard, vers la fin du XIXe Siècle, sont imprimés des jeux de cartes de transformation à des fins publicitaires, ce qui représente, pour l'époque, une innovation dans le domaine des cartes à jouer.
C'est le fabricant USPCC de Cincinati (Ohio) qui réalise ce jeu de cartes de transformation, en 1895, avec des figures réversibles et humoristiques.
Coffret de 2 jeux :
Un jeu à dos vert et un à dos marron.

Return to the catalogue
This item is no longer
sold on Magicaplanet