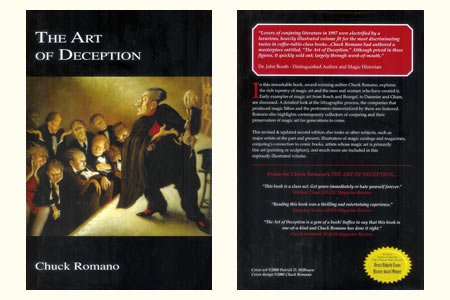 Description
Un
merveilleux ouvrage
, où l'auteur primé
Chuck Romano
, a exploré en profondeur l'art de la magie et de ceux et celles qui l'ont crée et fait évoluer.
Des sujets concernant Bosch et Bruegel, en passant par Daumier et Cham sont abordés ici.
Romano a également mis en avant des artistes contemporains et leur art pour laisser une trace aux générations à venir.
Cette
seconde édition revue et modifiée
, comporte de nouveaux sujets, comme des artistes majeurs du passé et du présent, les illustrateurs, des catalogues et magasines et beaucoup plus encore dans ce livre très bien achalandé.
AU SOMMAIRE :
From Whence They Came
The Image Makers
The Magic of Lithography
Keepers of the FlameOf Days Gone By
The New Generation
Women of Wonderment
The Dream Weavers
Periodical Prestidigitation
Conjuring's Comic Connection
The Fine Art of Magic
The Best of Both World's
Langue :
anglais –
423 pages illustrées.

Return to the catalogue
This item is no longer
sold on Magicaplanet