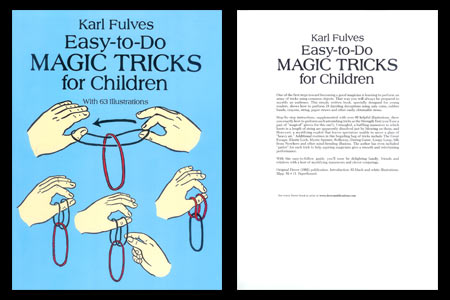 Description
One of the first steps toward becoming a good magician is learning to perform an array of tricks using common objects.
That way you will always be prepared to mystify an audience. This simply written book, especially designed for young readers, show how to perform 18 dazzling deceptions using only coins, rubber bands, crayons, string, paper straws and other easily obtainable items.
Step-by step instructions, supplemented with over 60 helpful illustrations, show you exactly how to perform such astonishing tricks as the Strength Test (you'll use a pair of « magical » gloves for this one !) ; Untangled, a baffling maneuver in which knots in a length of string are apparently dissolved just by blowing on them, and Heavyset, a mystifying exploit that leaves spectators unable to move a glass of « heavy air ». Additional routines in this beguiling bag of tricks include The Great Escape, Elastic Lock, Mystic Spinner, Rollaway, Dating Game, Loopy Loop, Silk from Nowhere and other mind-bending illusions.
The author has even included « patter » for each trick to help aspiring magicians give a smooth and entertaining performance.
With this easy-to-follow guide, you'll soon be delighting family, friends and relatives with a host of mystifying maneuvers and clever conjurings.
32 pages. 63 black-and-white illustrations.

Return to the catalogue
This item is no longer
sold on Magicaplanet