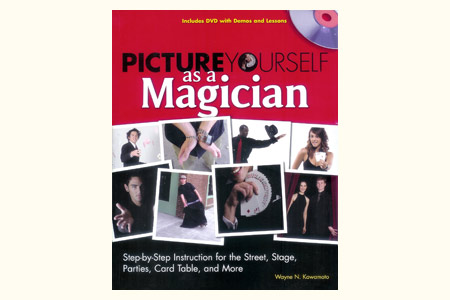 Description
Pas à pas, des instructions pour
la rue, la scène, les fêtes, le close-up…
Surprenez et éblouissez vos amis avec des tours de
cartes classiques, des routines de pièces, du mentalisme, de la lévitation, des évasions, des tours avec votre iPod…
« Picture Yourself as a Magician », est le livre parfait, divertissant et simple pour apprendre les tours et les techniques qui laisseront votre public émerveillé et amusé.
Les instructions sont écrites
étapes par étapes
, illustrées par de nombreuses
photos en couleur
, ce livre aidera grandement les débutants à se faire une place dans le monde de la magie. Ce livre vous permettra d'avoir le même impact qu'un magicien professionnel mais avec des tours adaptés aux novices.
Les trucs des pros vous permettront de parfaire et développer votre style.
Le
DVD joint
, vous donnera un aperçu en images des tours et techniques enseignés dans le livre.
Tenez-vous prêt à éblouir vos amis et votre famille en partageant un peu de magie.
Sur le DVD :
Démonstrations et leçons des tours et techniques expliqués dans le livre.
Leçons sur des effets supplémentaires non enseignés dans le livre.
Le nécessaire pour réaliser des effets avec votre iPod ou votre PSP comme décrit dans le chapitre 13.
AU SOMMAIRE : Chapitre 1 :
The Art of Magic
Chapitre 2 :
Easy Tricks
Chapitre 3 :
Basic Card Handling
Chapitre 4 :
Basic sleight-of-hand with Cards
Chapitre 5 :
Great Card Tricks
Chapitre 6 :
Trick Decks
Chapitre 7 :
Close-up /Magic
Chapitre 8 :
Mind Reading and Future Predictions
Chapitre 9 :
Stand-up and Stage Magic
Chapitre 10 :
Magic for the Street
Chapitre 11 :
Party Magic
Chapitre 12 :
Levitation
Chapitre 13 :
Electronic Magic with iPods and More
Chapitre 14 :
The Art of Performing Magic
Appendix A :
The World's Baest Card Trick
Appendix B :
Picture Yourself as a Magician 2
Appendix C :
The Clock
Appendix D :
The Mind Reader
Appendix E :
Magic Resources
Appendix F :
Artwork for « The Missing Pip » from Chapter 9
Langue :
anglais –
330 pages illustrées
.

Return to the catalogue
This item is no longer
sold on Magicaplanet