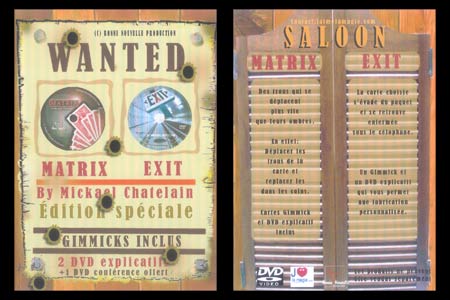 Description
Voici le cadeau idéal pour tous les magiciens professionnels.
Ce
coffret
comprend
2 tours de Mickael Chatelain
,
Exit livré avec son gimmick !! Et Matrix livré complet
également !! Vous trouverez aussi un DVD d'une
conférence
de Mickael Chatelain et de
Carlos Cardoso
intitulé
Flex The Movie
.
MATRIX RAPPEL DE L'EFFET:
Sortez de votre jeu une carte avec quatre trous, un dans chaque angle. Prenez un des trous entre vos doigts et faites le glisser jusqu'à l'angle opposé.
Lorsque vous écartez les doigts, le public découvre que le trou s'est déplacé sur la carte ! Il y a maintenant deux trous côte à côte dans le même angle.
Vous déplacez les 2 trous suivant de la même façon. Les spectateurs ont l'impression que les trous glissent sur le dos de la carte. L'effet est saisissant !
Au final, les quatre trous se retrouvent dans le même angle et la carte peut même être laissée à l'examen.
Vous pouvez aller et faire venir les trous comme vous le désirez !
Cartes gimmick et DVD explicatif inclus.
EXIT RAPPEL DE L'EFFET :
Ouvrez un paquet de cartes neuf que vous montrez au public et demandez à un
spectateur de choisir une carte
que vous ne voyez bien évidemment pas.
Cette carte est ensuite
remise dans le paquet
qui est à son tour remise dans son
étui puis refermé
.
C'est alors que vous
recouvrez l'étui par un simple foulard un très bref instant
et lorsque vous ôtez le foulard on découvre que la
carte choisie s'est glissé entre l'étui et le cellophane qui l'entoure…
Faites alors sortir la carte par le spectateur !
Un gimmick et un DVD explicatif qui vous permet une fabrication personnalisée.
FLEX THE MOVIE :
Flex The Movie est l'enregistrement d'une
conférence
durant laquelle Mickael Chatelain a
expliqué bon nombre de ses effets
. Non seulement, il présente 5 de ses meilleurs effets mais
explique comment les fabriquer
vous-même.
Carlos Cardoso y explique 7 routines.
Zig-zag
Bill flash card
Mental parano
Self impact
Metamorphose
Carlos Cardoso :
Elé-gants
Fusion card
Rose flash
Colour monte
Carte pensée

Card switch bill
Langue :
français –
Durée :
1h30 environ.
Lot exceptionnel idéal pour tous les magiciens professionnels !
Return to the catalogue
This item is no longer
sold on Magicaplanet