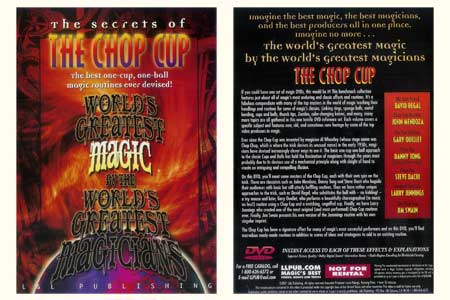 Description
Si vous ne deviez posséder qu'une seule collection de DVD sur la magie ce serait celle-ci !Cette collection de référence reprend
les meilleurs effets et routines de la magie.
C'est un fabuleux recueil dans lequel de nombreux maîtres magiciens vous apprennent leurs mouvements et routines pour quelques classiques de la magie.Anneaux chinois, balles éponges, torsion du métal, balles et gobelets, faux pouces, zombie, canifs caméléons et de très nombreux autres sujets sont tous abordés dans cette impressionnante collection de DVD de référence.
Chaque volume couvre un sujet spécifique et vous proposes quelques morceaux modernes, anciens et d'anthologie des meilleures vidéos de la magie
.
Avant que le
Chop Cup
soit
inventé par le magicien Al Wheatley
(dont le nom de scène était Chop Chop d'où le nom du tour) dans les
années 1950
, les magiciens ont mis au point des moyens de plus en plus habile pour s'en approcher.
Dans ce DVD, vous retrouvez certains
maîtres du Chop Cup
, avec leur
touche personnelle
.
Il y les
puristes comme John Mendoza, Danny Tong ou Steve Dacri
qui charment leur public avec des tours basiques.
Ensuite il y a ceux qui ont une approche totalement personnelle du tour, comme
David Regal
qui échange la balle, vous n'y croirez pas, avec une fausse souris ou encore
Gary Ouellet
qui réalise une routine très joliment chorégraphiée…Finalement nous retrouvons
Larry Jennings
qui a inventé une des routines de Chop Cup des plus originales.
Enfin,
Jim Swain
nous offre sa propre version de la routine de Larry Jennings avec sa touche si particulière.
AU SOMMAIRE :
My Best Friend de David Regal

Chop Cup Routine de John Mendoza

The Two Goblets de Gary Ouellet

Chop Cup de Danny Tong

Chop Cup de Steve Dacri

Jennings Chop Cup de Larry Jennings

The Chop Cup de Jim Swain

Le Chop Cup est un effet très prisé et vous trouverez dans ce DVD des routines toute prêtes à l'emploi ainsi que des idées et des stratagèmes à ajouter à vos routines déjà existantes.

Langue : anglais – Durée : 1h53 min.

Return to the catalogue
This item is no longer
sold on Magicaplanet