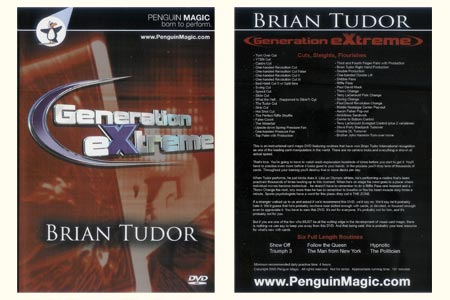 Description
Ce DVD de
Brian Tudor "Generation Extreme"
contient les routines lui ayant permis d'obtenir une
reconnaissance internationale
comme étant l'un des
leaders de la manipulation de cartes
dans le monde.
Aucun trucage vidéo, tout est montré à vitesse réelle.
Vous allez regarder chaque explication des centaines de fois avant de pouvoir les présenter. Vous devrez
pratiquer toujours plus
avant que la manipulation soit parfaite entre vos mains.
Lors de cet apprentissage vous ferait tomber des dizaines de milliers de cartes et détruirez sans doute 5 à 6 jeu de cartes par jour.
Tel un athlète de haut niveau, Brian Tudor a effectuée ses routines des centaines de fois pour qu'elles soient parfaites. Une fois sur scène,
ses gestes sont instinctifs
…pas besoin de se dire je dois faire tel ou tel mouvement…
Ce DVD n'est pas pour tout le monde, il
s'adresse aux cartomanes avertis
, souhaitant se perfectionner. Mais si vous êtes l'un d'entre eux, nous n'avons plus rien à dire pour vous freiner. Ce sera probablement
la meilleure ressource proposant une vision complète des nouveaux effets cartomagiques
.
Il est recommandé de pratiquer au moins 4h par jour.
AU SOMMAIRE :
Cuts, Sleights, Flourishes
Turn Over cut
YTBN Cut
Castro Cut
One-handed Revolution Cut
One-handed Revolution Cut False
One-handed Revolution Cut II
One-handed Revolution Cut III
Bad Habit Cut II w/ Split fans
Swing Cut
Speed Cut
Sible Cut
What The Hell...(happened ti Sible?) Cut
The Tudor Cut
The Perfect Riffle Shuffle
False Count
The Waterfall
Upside-down Spring Pressure Fan
One-handed Pressure Fan
Top Palm with Production
Third and Four Finger Palm with Production
Brian Tudor Right Hand Production
Double Production
One-handed Double Lift
Dribble Pass
Paul David Muck
Throw Change
Terry LaGerould Flick Change
Spring Change
Paul David Revolution Change
Middle Nostalgia Center Pop-Out
Aaron Fisher Pop-out
Ambitious Sandwich
Center to Bottom Control
Terry laGerould Swingest Control (plus 2 variations)
Steve Forty Blackjack Turnover
Double DL Turnover
Brother John Hammin Turn-over move
6 Routines complètes :
Show-Off
Triumph 3
Follow the Queen
Hypnotic
The Politician
Langue :
anglais.

Return to the catalogue
This item is no longer
sold on Magicaplanet