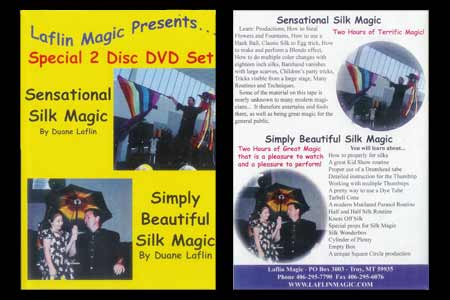 Description
Voici un
coffret de 2 DVD
consacrés à la
magie des foulards
la passion de Duane Laflin.
Régalez vous en regardant ces DVD et en mettant en pratique les conseils avisés de Duane Laflin.
Vous y trouverez de
nombreux conseils
, sur les changes, les disparitions, les pliages, les changements de couleur…
Certains objets utilisés dans ce DVD sont inconnus à la nouvelle génération de magiciens ...mais ils sont pourtant très utile...
DVD 1 : Sensational Silk Magic
Productions
How to use a Hank Ball
Classic Silk to Egg trick
How to make and perform a Blendo effect
How to do multiple color changes with eighteen inch silks
Barehnd vanishes with large scarves
Children's party tricks
Tricks visible from a large stage
Many Routines ans Techniques
Langue :
anglais –
Durée :
2h
DVD 2 : Simply Beautiful Silk Magic
How to properly for silks
A great Kid Show routine
Proper use of a Drumhead tube
Detailed instruction for the Thumbtips
A pretty way to use a Dye Tube
Tarbell Cone
A modern Mutilated Parasol Routine
Half and Half Silk Routine
Knots Off Silk
Special props for Silk Magic
Silk Wonderbox
Cylinder of Plenty
Empty Box
A unique Square Circle production
Langue :
anglais –
Durée :
2h.

Return to the catalogue
This item is no longer
sold on Magicaplanet