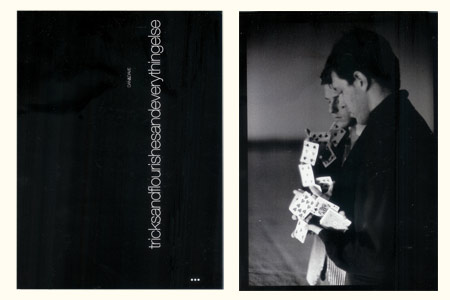 Description
Dan et Dave
réalisent un art très pointu depuis leurs 14 ans. On pourrait dire qu'ils ont crée un
nouveau genre de tours avec cartes
, visuellement novateur.
Chaque effet est décrit pas à pas
pour un apprentissage sans difficulté.
Livré avec un booklet de 12 pages contenant de très belles photographies en noir et blanc.

Coffret cartonné.

DVD 1 : TRICKS

Tivo Transpo
Tivo 2.0
Subway
Card Across
Hand to Mouth
Déjà Vu
Twinsplit Remix
Fission for Aces
Hofzzy Osbourne
The Queens
Swiss Made
Collectors
Hedbergs Peak
Sixty Nine

Langue : anglais – Durée : 2h10

DVD 2 : FLOURISHES

Carnahan Fan
Molecule Four
Jackson Five
Erdnase Go Round
Vertigo
Eko
Mecka
Akira
Tectonic Verb

Langue : anglais – Durée : 2h15

DVD 3 : EVERYTHING ELSE

Real Time
Molecule 2 Revisited ( 4 new flourishes)
The Forte Flourish
Blackjack Production
Spin Center Double
Jones Change
Click Change
Hugh Scott Shuffle
Finger Exercises
Flourishes 101 (20 classic flourishes explained)

Langue : anglais – Durée : 1h29

Et bien plus encore...


Return to the catalogue
This item is no longer
sold on Magicaplanet