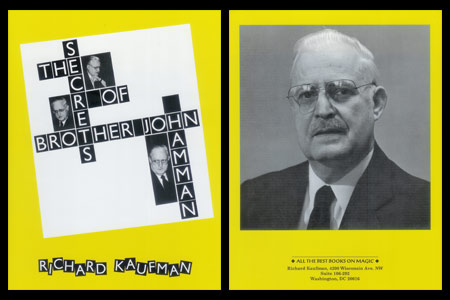 Description
John Hamman au style tellement particulier
dont les effets ont été repris par bon nombre de magicien
partage dans ce livre ses précieux secrets
.
Vous serez bien sûr capable d'apprendre ses secrets et les utiliser lors de vos spectacle.
AU SOMMAIRE :
Instant Double and Triple
Turnover Technique
from a deck
the longitudinal convex bridge
from a packet

Dead Man's Hand
the double-deal switch

Double Deal Card to Pocket

The What and Where Test
Double lift from the bottom of a packet

The Two-Card Trick

1 2 3 4 5 Peek Thought

Deck in Parvo

Acey-Deucey

Bro. Hamman's First Twist
block Pushoff

Bro. Hamman's Second Twist
the undercount
small-packet reverse fan display

Bro. Hamman's Final Twist
the Hamman Ascanio Count
flustration count

Watch Me Like a Hawk
undercount variation

The Signed Card

Triple Cross

Kings Through the Table

Flight of Four

Sealed-Room Mystery

Thunderstruck

Peek Look Think

The Chinese Miracle
the chinese shuffle

Chinese Shuffle to Si Stebbins Stack

Three Guesses
J.K. Hartman's secret subtraction

Opposite Pockets

Magic Box

Four-Pocket Mirror

The Disobedient Cards

The Final Shuffle

Two-Shuffles Harry

The Pesky Cards

The Twins
gemini count

The Pinochle Trick

The Magic Cards

The Jacks Come Back

The Knavish Deuces
double flushtration count

Revenge on the Pink Panthers

Kangaroo Card

Eight-Ball Queens

New Hue
the two-as-four count

The Lollapalloza Hand
the lollapalloza switch

False witness
Arthur Findley's Tent Vanish

Pickpocket

The Doppelganger Card

The Multiplying Kings

Thought Cards Across

Billy the Kid

Stun-Sational

Micro-Macro

Micro-Macro (with regular cards)

The Invisible Card
The Countback

Houdini Escapes
The Braue Reverse

Seeing with the Fingertips

Devilish Miracle Retold
Countback Variation No. 1

The Transparent Cards
Countback Variation No. 2

The Adventure of the Spotted Seven
Larreverse

The Skipping Jacks
Countback Variation No. 3

Flash Poker
The Flash Change

Spectator Outdeals Magician...Almost

Magician Versus Gambler

The Poker Palm Shift
Countback Variation No. 4

Up the Down Sleeve

Go Fish
The Rolling Control

Blind Chance

Cream Rises to the Top

The Axes and the Jaces

The Underground Transposition
The Veeser Concept
li>Phoenix Four

The Homing Card
The Wild-Card Move

Out of Print

Universal Card

The Mystic Nine
The Hamman Count

The Faked Deck

Four-Tunate Choice
Carlyle's Turnover Move

Haldeucination

The Amorphous Ace

Wild all the Way

Final Aces

The Marx Brothers
The Swivel Switch

Ladies Man

Mixed-Up Mates
Small-Packet Double Deal Turnover

Five Kings Royal

Small-Packet Double Deal Turnover

The Old Classic

Fan-To-See

Langue : anglais – 252 pages illustrées.


Return to the catalogue
This item is no longer
sold on Magicaplanet