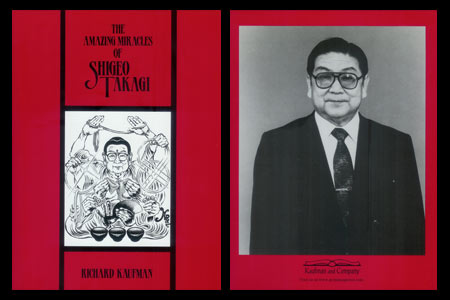 Description
Enfin la réédition du
fameux livre sur Shigeo Takagi
, écrit par Richard Kaufman et illustré par Ton Onosaka.
Mon ami, Shigeo Takagi, est un excellent magicien qui dévoile dans ce livre sa magie pleine de subtilités. Son travail est direct sans aucun mouvement de trop. J'admire énormément le travail de ce technicien de la magie japonais" -
Dai Vernon. AU SOMMAIRE :
Foreword By Max Maven

Devilishly Direct

Takagi's Coins Across

Wild Time

The Wild Blanks

The Solid Cup

Trans-Purse-Sition

Trans-Purse-Tation

The Ghostly Silk

Who Cuts First?

ScissoRope

The Leaping Silk

Total Triumph

Rising Triumph

Color-Shift Triumph

The Oriental Coins

The Double Thought

Convergence

Rope, Knots, and Wand

Double Cut and Restored Rope

Monte With Four

Do As I Do Rope Routine

Chinese Rubber Band Mystery

A Beautiful Thumb Tie

Owan To Tama (Japanese Cups And Balls)

New Era Linking Rings

Langue : anglais – 120 pages illustrées.


Return to the catalogue