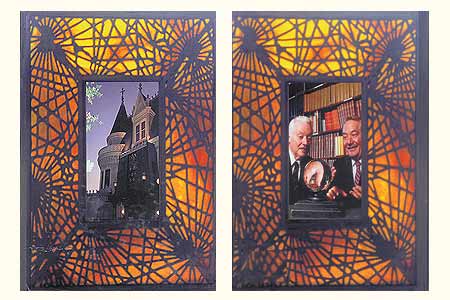 Description
A Magical Mystery Tour of Hollywood's Most Amazing Landmark !
The ultimate tour of the world's most unusual private club.Milt Larsen's Magic Castle Tour explores the origins of every nook, hall, room and corner.Written and photographed by Carol Marie, this is the definitive guide to The Magic Castle and a must-have for every guest, visitor and member.
Contents:
The Lane Mansion
Thomas O Glover Sr
Front Entrance / Foutain
Reception Entry hall
Grand Salon
The Blackstone Room
Harry Blackstone
Harry blackstone Jr
Invisible Irma's Room
Invisible Irma
The Museum in the Haunted Wine Cellar
William Larsen Jr
The Haunted Wine Cellar
Hat'n Hare Pub
Milt Larsen
The Close-up Gallery
Jay Alvin Ose
Grand Staircase
The Mezzanine Owl Bar
John Shrum
Main Dining Room
Houdini Seance Room
Harry Houdini
Cherub Room
Terrace Dining Room
Irene Larsen
Dante Dining Room
Dante
Palace Hallway Art Gallery
Geraldine Larsen
Palace of Mystery
Palace Bar
Waiting Area of the Parlour of Prestidigitation
Dai Vernon
Parlour of Prestidigitation
Inner Circle Ballroom
The Albert Peller Theatre
William W Larsen Memorial Library
William W Larsen Sr
Language
: English,
295 illustrated pages
.

Return to the catalogue
This item is no longer
sold on Magicaplanet