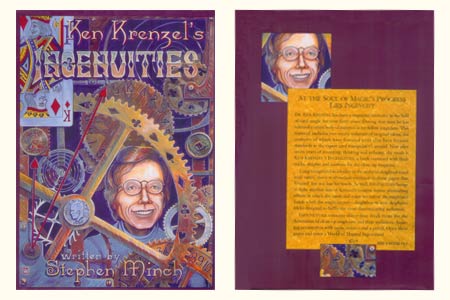 Description
Ken Krenzel
, long known as a leading exponent of expert sleight of hand with cards, serves up a bountiful table of pasteboard astonishment, featuring lots of visual magic and baffling happenings with
cards, coins and a pencil!
A total of 34 innovative tricks, routines and sleights such as:
Ingenuity # 1:
At the finish of an Ambitious Card routine, the performer places the deck in its case, then clearly inserts the signed selection into the center of the boxed deck.He makes a magical gesture and asks someone to slip the top card from the case.
It's the signed one risen mysteriously to the top!
The deck is ungimmicked.
Ingenuity # 2:
A spectator is given two coins, one copper, the other silver.He leaves one in his pocket and holds the other in his hand. Yet the performer causes
two coins to change places!
The coins are normal.
Contents:
INTRODUCTION
PRIMORDIA RERUM
OUT OF HAND
- Box top- Simulacrum mirabundum- Remote chance- Open prediction: a new angle- Halfway to hell- Shoe-in- The other shoe
THINGS CHANGE
- Around the world in several ways- Change at a rapid clip- Slip-lap change- Sequence mechanique- It's a wrap
ESCAPING CADVILLE
- Pocket passeport- Flipperoon- Obstacle course- Flippant alchemy- Poor miser- The million penny mystery
NEW TOOLS
- Peak Decks- a natural false cut- Top-cover dribble pass- Mr. Fingers goes to the bottom- The eclipse production- Opi-stack
TALL TALES AND SHORT CONS
- The lost aces of Louie the loser- Cloning queens- The last heist- Gravity travelers- Under wrap- Poles apart- Sand-witches- Sluggard's monte- Strip the leader- Fired up
Language
: English,
Harcover Book
containing
224 pages
of exquisite magic, enhanced by
213 illustrations
.

Return to the catalogue
This item is no longer
sold on Magicaplanet