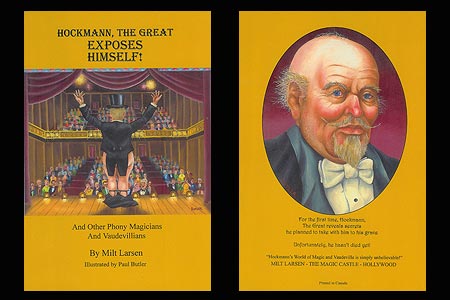 Description
For the first time ever,
Hockman, The Great
reveals the secrets that he planned to take with him to his grave... unfortunately he hasn't died yet!Professor Hockman
breaks the rules
and reveals the secrets of his most unusual illusions that no self-respecting magician would ever even want to know.Amazing stories that none before would ever dare tell in loving, hilarious detail by
Milt Larsen
.
Contents:
The art of exposure
Who is Hockmann?
Dai Vernon letter
Rancho Hockmann
Hockmann's age
Hockmann's holidays
Broken and restored mirror
The Hazy world of Hockmann
Amazing stonewall
Double lift

Packing box escape
Disappearing goblet
Bare stage review
Maud's memories
Superman transition illusion
The floating and vanishing elephant
Hockmann's cohorts
The scandinavian sorcerer
The jumbo rising cards
Magneto the great
Great Kiddie wonder show

Vanishing dime extravanganza
Shocking electric chair vanish
Hockmann on inventions
Vanishing flying machine illusion
The fakir's favourite hindu rope trick
The cut and restored rattlesnake
The guillotine illusion
The vanishing mustache trick
Nest of boxes
Hockmann on publicity
Unusual theaters
Klotzmeyer bijou
Atlantis aquatic theater

Hockmann on vaudeville
Unusual variety acts
The amazing nudedini
About the artist
Maude Hockmann
Language
: English,
177 illustrated pages
.

Return to the catalogue
This item is no longer
sold on Magicaplanet