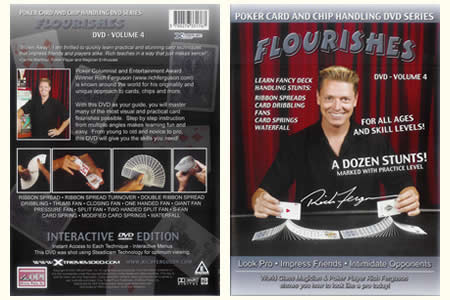 Description
The official poker - vol.4
"Simply the best! Rich is the authority on poker chip tricks and stunts with cards! I can't wait to see more! My subscribers are waiting for tricks like these! Great job!"
Bluff Magazine
Poker columnist and Entertainment Award Winner,
Rich Fergusson
is known around the world for his originality and unique approach to cards, poker chips and more.
His passion brought him to produce a
DVD series to reveal all his secrets.
It includes the necessary basis for you to look like an expert in poker.
With this DVD as your guide, you will master many of the most visual and practical card flourished possible.
Step by step instructions from multiple angles makes learning fun and easy.
From young to old and novice to pro, this DVD will give you the skills you need!
Also included are
techniques by Rich
that have never been revealed to the public - until now!
Stunts included:
Ribbon spread - Ribbon spread turnover - Double ribbon spread - Dribbling - Thum fan - Closing fan - One handed fan - Giant fan - Pressure fan - Split fan - Two handed split fan - S-fan - Card spring - Modified card psings - waterfall
Language
: English.

Return to the catalogue
This item is no longer
sold on Magicaplanet