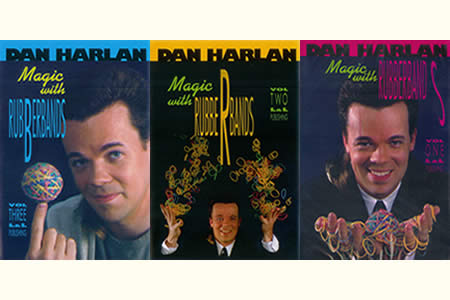 Description
Le nom de Dan a été le synonyme de la
résurgence de la magie des élastiques
lorsque ses premières créations ont commencé à être utilisées par quelques grands noms de la magie.
De nos jours, son vaste répertoire est respecté partout dans le monde et vous est maintenant expliqué dans le détail.
Plutôt que de présenter des tours indépendants les uns des autres, Dan a organisé ses idées et vous proposes de retrouver ses créations dans des sections contenant des méthodes complémentaires pour
créer des routines abouties en intégralité
... professionnel et complet !
Il y a bien plus de
techniques, de subtilités
, et même
de trésors
sur ces trois DVD que vous ne l'auriez jamais imaginé.
Avec l'aide de Dan vous apprendrez rapidement les mouvements et manipulations qui peuvent parfois sembler compliqués, le tout dans un climat de paix qui vous donnera confiance et vous permettra de manipuler comme un grand maître.
Volume Un
Au sommaire :
Rubber Cuffs

Mark Fitzgerald's Back Two-Gether

Soft Spot

Dave Neighbors' Twice As Crazy

Dave Neighbors' Crazy Link

Crazy Twist Vanish

Donald Carolan's Card Cuffs

Martin Gardner's Climbing Ring

John Swomley's Snap Two

Jeff McBride's Post Modern String Art

Gary Beutler's Appearing Band

Band Parenthood

2 to 1 Join

Ray Kosby's Recurring Nightmare

1 to 2 Split

Gary Beutler's Multiple Appearance

Gary Beutler's Tongue Tied

Gary Beutler's Hindu Bands.

Langue : Anglais, Durée : 1h12.




Volume Deux

Au sommaire :

Pseudo Wrist Penetration
Thumb Twist

Gary Beutler's Finger Twist

Martin Gardner's Deck Twist

Joe Rindfleisch's Delayed Snap and Penetration

David Berger's Hypnotic Link

Chris Kenner's Missing Link

Breakaway

Bobby Plaut's Break Up the Band

Spread Suspension
Resonance

Know Restored

Joe Rindfleisch's Pans

Stranded


Langue : Anglais, Durée : 56 min



Volume Trois


Au sommaire :

Rubber Morph

Willy Worm

Martin Gardner's Penetrating Matches

Michael Goldman's Snap Back

Joe Rindfleisch's Spaghetti Up Nose

Yugi Murakami's Jump Switch

Boomerang Band

Jon Allen's Star

Jeff McBride's Starweaver

Lee Freed's Latter Ladder

Greg Wilson's Timezones

Michael Ammar's Cash Delay

Acrobatclip
Stanley Collins' Jumping Rubber Band

Twist-On

Martin Gardner's Delayed Jump

One-Armed Band-Up

Doublejointed (Penetration)

Jumper Stumper

Joe Rindfleisch's Emergency Pull

Mass Vanish to Ball.

Langue : Anglais, Durée : 1h11.

Return to the catalogue
This item is no longer
sold on Magicaplanet