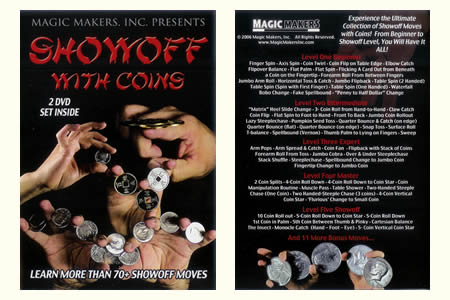 Description
Experience the Ultimate Collection of Showoff Moves with Coins!
Everything you need to become an extreme showoff!
This 2 DVD set features over 70 moves.
Five skill levels will take you from beginner status to showoff coin magician faster then you can say Tenkai!
An essential DVD!
Content:


Level one – beginner

Finger spin; Axis spin; Coin twirl…


Level two – intermediate

Matrix heel slide change, 3 coin roll from hand to hand, Claw catch coin flip…


Level three – expert

Arm pops, arm spread and catch, coin fan…


Level four – master

2 coin splits, 4 coin roll down, 4 coin roll down to coin star…


Level five – showoff

10 coin roll out, 10 coin roll down to coin star, 5 coin roll down 1st coin in palm…
Language
: English.
VIEW CLIP

Return to the catalogue
This item is no longer
sold on Magicaplanet