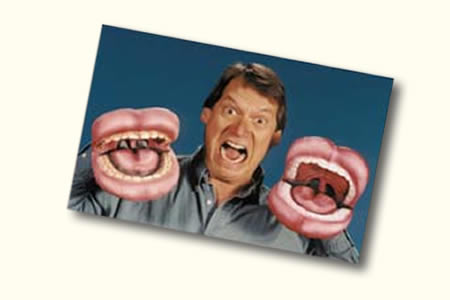 Description
We yell at the table, we laugh out loud, we eat junk food!
Imagine the laughs you'll get lip singing your favourite song or imitating a fast talking disc jockey!
You can use it with a volunteer on stage.
Just operate the BigMouth over your "victim's" face... and make them talk with a BigMouth!
Some ideas
Building a puppet on stage!
Start with the BigMouth puppet and then put on a pair of sunglasses (inserting the ear pieces into the tiny elastic bands on the back sides of the puppet).
Then pop on a wig.
Next hand a coat hanger from your wristwatch or from the inside of the puppet. You can now hand a shirt on the hanger! Continue as you like.....Enjoy!
Introduce yourself with the BigMouth.
Use it to introduce yourself when you had no one to do it. Look off to your left (while you introduce yourself) as though that will make you invisible.
Make it funny by making exaggerated claims about yourself in the process.
Mouth size
: approximately 20 cm *11,5 cm

Return to the catalogue
This item is no longer
sold on Magicaplanet