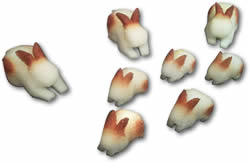 Description
Two adorable rabbits, Mama Rabbit and Papa Rabbit are introduced. A spectator holds Mama Rabbit in his closed hand while Papa Rabbit disappears.
Opening his hand the spectator discovers that
Papa Rabbit has magically joined Mama Rabbit.
Now the spectator holds onto both Mama and Papa as she taps the back of his hand saying some magic words.
This time when he opens his hand, there are screams of amazement because
an entire family of 5 Bunnies has magically appeared!In 3D Rabbit box there is:
3 rabbits

5 bunnies



Return to the catalogue