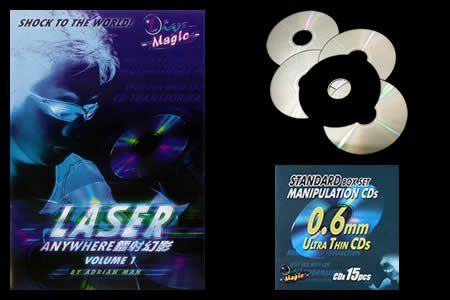 Description
Ce lot comprend tout ce qu'il vous faut pour pratiquer la manipulation de CDs.
Ce lot comprend :
Le coffret « standard » de 15 CDs de manipulation.
Ces CD sont deux fois plus fins que des CDs classiques (seulement 0.6 mm d'épaisseur !).

Ils vous permettront de pratiquer cette discipline, qu'est la manipulation de CD dans les meilleures conditions que vous soyez débutant ou expert en la matière.


Les premiers, les plus fins et les seuls CDs de manipulations au monde

Crée et conçus par des professionnels, spécialement pour la manipulation.

Superbe fabrication et finition
Coffret de 15 Cds
Le DVD « Laser Anywhere Vol.1 »
Adrian Man, un magicien récompensé à Hong Kong, vous apprendra tout ce que vous devez savoir sur la manipulation de CD.

Adrian traite de tous les sujets de la manipulation de CD notamment des Empalmages, Productions, Charges, Décharges, etc.
De surcroît, Adrian vous apprend pour la toute première fois les routines « Split Fan Production with CDs » et « Jumbo CD Production », qui sont des éléments phares de son spectacle récompensé !


« Adrian Man a remis à jour bon nombre des techniques de mouvements des mains pour les publics actuels. Ses DVD de manipulation de CD font partie des meilleurs supports que l'on puisse trouver à ce sujet. Je les conseille à tous les étudiants des manipulations scéniques. »

Jeff McBride - Las Vegas Headliner


Au sommaire :


Introduction

Tenkai Palm

Perfect Palm

Waist Palm

Toss Vanish

Flash Vanish

Drop Vanish

Knock Vanish & Production

Perfect Single Production

Tenkai Single Production

Perfect Multi-Production

CD Transfer

3 CDs Vanish & Production

CD Vanish & Production with Silk

4 CDs Production Routine with Silk

Color-Changing CD #1

Color-Changing CD #2

CD Fanning

Split Fan with CDs

Mini-CD to CD

Flash-Paper to CD

CD to Confetti

CD Holder

Body Steal

Jumbo CD Production Routine

CD Manipulation Routine #1

CD Manipulation Routine #2

Adrian's CD Routine


Langue : Anglais, Cantonais, Durée : 1h35.

Return to the catalogue
This item is no longer
sold on Magicaplanet