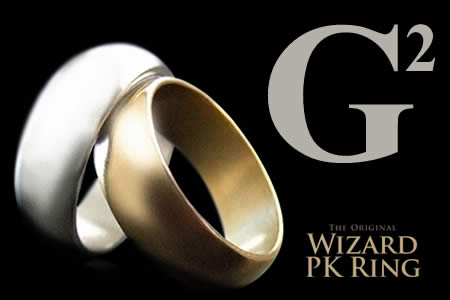 Description

Diameter: 17 mm
Color: Silver


The new G2 Wizard PK ring has all the same qualities as the first generation ring but has a new curved surface and a bit more grunt!.
This new generation Pk ring is shaped like a regular wedding band.

For those of you wondering « Why ANOTHER Wizard Ring? »... the answer is simple:
You, the customer wanted more power.
You, the customer wanted this traditional shape.
So we have answer to your wishes.


Presented in a gorgeous jewellery box, the ring is designed for many years of use and can be worn continuously as you would wear any item of jewellery.
That's the beauty of the Wizard PK Ring G2 - it looks completely normal, but its secret magnetic power is always available.

Supplied with an instructional booklet containing two routines. the Wizard PK Ring G2 is ready-to-use straight out of the box.

Designed purely for magicians, by magicians, the Wizard PK Ring G2 has already taken its place in the must-have magician's arsenal.
And with so many applications in magic and mentalism, it is not surprising that the Wizard PK Ring is a worldwide best-seller.


Once you'll have it you'll never part from it anymore!!

Endless uses.


The first completely magnetic ring designed for magicians by magicians!

The Wizard PK Ring G2 is a 100% Neodymium magnet presented under the shape of a traditional wedding band.
It will give you a multitude of opportunities to amaze and impress. The uses are only limited by your imagination.

Not only it looks like a common ring (such as a wedding band) but it also do the work for you. You don't have to conceal any object in your hand – and this is a rare characteristic.


Stop the time on a watch using you mental powers.

Make metallic objects moving with the strength of your spirit.

Make coins appearing or vanishing.


The uses are only limited by your imagination.


Supplied routines:


Stop time

Coin though glass.

Delivered complete with the Wizard Pk Ring G2, the jewellery box and the detailed instructions to perform two effects.




Warning: Do not use this ring if you wear a pacemaker.




Return to the catalogue